PaliRoots Meal Program
The meal program is our hallmark charity operation that has grown beyond our imagination. It started with the mere idea that the work we are doing to spread the Palestinian culture around the world, must be sustained within Palestine. What better way to ensure that then directly supporting the growth of Palestinian children who will carry that responsibility. In addition, the program supports their families by providing monthly food parcels, compensation for hospital visits, and provides working opportunties to marginalized women. We partnered with Middle East Children's Alliance (MECA) to carry out the ground operation and to ensure every meal is allocated to a child in Palestine.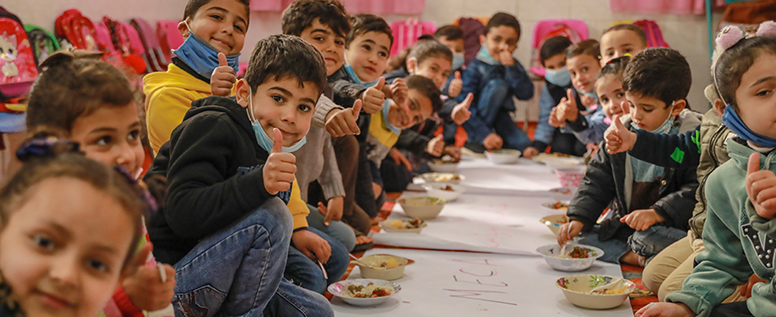 The MECA team on the ground isn't handing out microwaveable meals either. They work day in and day out to provide the children of Palestine with fresh and nutritious foods such as: chicken, meats, vegetables, fruit, and dairy products. Since our inception, we've donated over 2.5 million meals. Research studies have shown children had significant improvement in their health and energy levels, as well as a stronger desire to attend school. The meal program is more then just breakfast and lunch, it's a stepping stone to a vibrant future for Palestine. It's for the preservation of its culture.
Funding Projects
A peaceful Palestine is what we strive for, but not always what we get. Organizing high impact campaigns over the past several years has been our biggest priority when challenges are presented to the people. To date, PaliRoots raised and donated $3,401,711.79 towards charitable causes. Our community has donated to campaigns for Clean Water, Feeding Families, Toys For Eid, Chemotherapy Drugs, Tree Planting, Water Tankers, Winter Bundles (Clothes), as well as Backpacks & School Supplies for children in refugee camps.
The key to each project has been complete transparency and constant communication to build the trust of thousands worldwide to ensure the money they donate is going directly to Palestine. Before any new partnership project, we vet the organization thoroughly both through research and contacts on the ground in Palestine to ensure the security of the project. The goal with each organization is to build a sustainable partnership, ensure on-the-ground coverage, create impact reports, and most importantly help the people of Palestine.